M. Lee Rogers, Vice President
Hixson, Tenn.
mleerog[at]bellsouth.net
---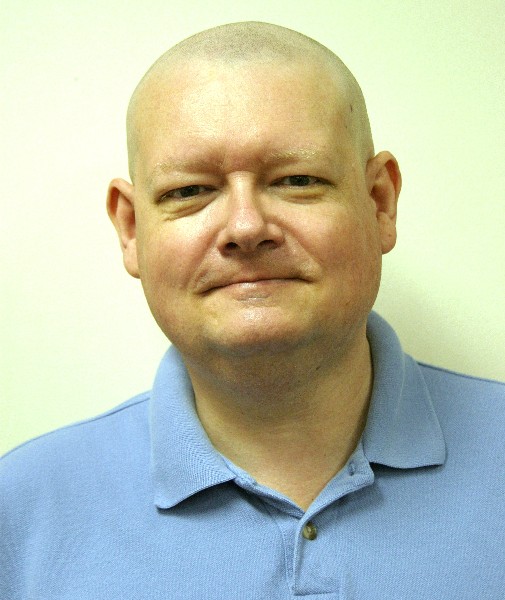 M. Lee Rogers never dreamed he would become a science fiction fan. Even now, he feels like he has one foot in the fannish world and one in the real world. It's the kind of situation that can make a guy feel like a stranger in any land, not just the strange ones.
"M. Lee Rogers" is the literary pseudonym. His friends usually call him Mike Rogers, so that's the name we will use in this write-up.
Mike grew up in a working-class section of Chattanooga. Both parents' families migrated to the city from the Sand Mountain area of northeast Alabama. Despite the Appalachian accents surrounding Mike, he did not speak like his family or their friends. From an early age, he was accused of "talking like a Yankee." It probably came from watching television.
Something else was different about Mike. As soon as he learned how to read, he read everything he could find. He remembers many pleasant hours poring through encyclopedias and old copies of National Geographic.
Mike's parents divorced when he was 5. After that, he was raised by some combination of his mother, Vicki, and Vicki's mother, Ola Mae (Mem-Maw). The father's mother, Granny Rogers, was also an important part of the team until her death from breast cancer in 1966. Mike looks more like Granny Rogers than anyone else. (Wise guys may make their softball jokes here.)
Mike attended public schools in the East Chattanooga and North Chattanooga neighborhoods. After a few weeks of chasing a girl at Northwestern University in Chicago, he earned his B.M. degree from the University of Tennessee at Chattanooga in 1980. He had started piano lessons at a very early age but stopped playing around age 12 when he realized the family could not afford conservatory lessons. He started playing again at UTC, but too much time had passed and he was not a star piano student.
Shortly after graduation, Mike broke the tip off his kneecap in an auto accident. After a few months of rehabilitation, all thought of further musical study went away and he realized he needed to find a job. Mike had not pursued any other job-related training in school and the economy was in deep recession.
At this point, Mike began his twenty years of wandering in the wilderness. He had one usable skill: he could type fast. So he began a series of office jobs that barely kept him alive but left him quite frustrated.
Not long after starting to look for work, Mike moved to Atlanta to take a job. He stayed in Atlanta from 1981 to 1990. After that, he returned to Chattanooga and has remained there ever since.
The fannish part of the story started later for Mike than for most fans. Mike was close to high school graduation. He had started reading English and American literature and was well on his way to becoming one of those insufferable intellectual types. (Here's your next softball, smart-alecks.)
Somewhere along the way, Mike joined Mensa. It would not be worth mentioning except that at one of the meetings, he met a Jewish guy who had attended the same high school. This fellow started talking about science fiction and SF fandom. It was Irvin Koch, one of Southern fandom's best-known activists.
Mike tried a couple of SF novels and was hooked. Mainstream fiction was snobbish, boring, pretentious, and trite compared to the better science fiction. The "sense of wonder" took over and Mike sailed through the universe with Asimov, Heinlein, Clarke, Ellison, LeGuin, Pohl, both Vinges (Vernor and Joan), and many other authors.
Mike attended Irv's convention called Chattacon. It was the infamous Chattacon 2 in January 1977 held during an ice storm in a motel with outside corridors. Maybe 150 people made it. Perhaps 1,000 people have claimed to have been there. Meade and Penny Frierson did not get there until Saturday afternoon because of the weather.
Suddenly, Mike found people like himself. He started going to other conventions. After attending that early Chattacon, Mike worked on a few Chattacons in programming and finance. He helped to found the Chattanooga Science Fiction Association along with Rich and Nicki Lynch, Ken and Julia Scott, Tim Bolgeo, and others. CSFA only lasted a few years, but was good fun while it lasted.
Mike then explored the world of fan publishing. In the process, he edited a few issues of a general fanzine, *Harmonic Dissonance*, and wrote for a number of apas, including SFPA, Myriad, and LASFAPA.
Living in Atlanta during the 1980's, it was inevitable that Mike would end up working on the 1986 World Science Fiction Convention, ConFederation. He joined the Atlanta in '86 bid and ended up editing the bid's fanzine, South on Peachtree.
The original plan was for Mike to be head of publications for the convention. Then Mike dropped off the con committee because of real-world pressures. In the summer of 1985, Mike was working as a word processing drudge for a local bank. One day, he was sitting at his terminal in the bullpen working on some document. It was an utterly normal day.
Suddenly, Mike looked up and saw a sight he will never forget. Two mangy men had come into the office looking for Mike. Their names were Ron Zukowski and mike weber. Ron was the Co-Chairman of ConFederation along with Penny Frierson. mike was and is a long-time Southern fan from Atlanta and the brother of the author David Weber. They asked Mike's boss for permission to meet with him and the three retired to a deli in the basement.
It turned out that ConFederation needed help. Specifically, it needed a Chief Financial Officer. The previous arrangements had not worked out and things were not being done. Mike was still not sure why they had come to him. He only had the brief time working with Irv on Chattacon's finances. But Ron and mike assured him he was pretty much the only person left who could save the situation. Against his better judgment, Mike agreed to return as CFO and business manager of ConFederation.
The story of ConFederation deserves a long article of its own, which Mike hopes to write someday. The summary is that the convention successfully entertained 5,800 fans and did not lose money as had happened to the 1983 Worldcon in Baltimore. In fact, ConFederation ran an $80,000 surplus which helped to bring about the "pass along funds" movement in Worldcon fandom.
By that point, Mike had moved on. He spent a year after the convention finishing up the financial reporting and the last details of the convention. The process burned him out so thoroughly that he gafiated from (dropped out of) SF fandom and was rarely seen in fannish circles for a long time afterwards.
The fannish side of the story is almost finished. A few years ago, Mike designed the Web site you are now reading. He started to compile convention listings for Randy Cleary's edition of the SFC Bulletin. Mike is currently working on the 3rd edition of the Southern Fandom Confederation Handbook. This version will convert the paper handbook to a Web site and update the copy to cover events since the 2nd edition in 1997.
Outside fandom, Mike realized soon after graduation from college that he should have studied computers. He looked for a college program in Atlanta, but no situation appeared promising. After a few years in Chattanooga, he went back to school to study computer information systems. Since 2000, he has worked as a general software developer for Chattanooga State Community College.
After many years of never touching a musical keyboard, Mike now serves as the substitute organist at All Saints Anglican Catholic Church in Soddy-Daisy, TN. He also leads some Morning Prayer services and is trying to start his studies to become a deacon or priest in the ACC.
It has been a weird ride. No LSD trip could have topped it. The rest of the journey may be even wilder. Be there. Aloha.
---