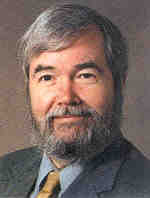 This page pays tribute to the man who built and preserved the Southern Fandom Confederation, who dedicated the organization to its mission, and who devoted so much of his time, energy, and money to the organization's well-being.
Meade's death came as a shock since there was no general awareness of his condition. Sixty-one seems like such an early age to go in our long-lived era of organ transplants and CaT scans and miracle medicines. But the situation reminds us that even in our world of tomorrow we are all mortal. Some diseases resist all of our spells and potions; aggressive cancer tops the list.
Let us concentrate on his achievements. Meade raised a family of three sons in a comfortable suburban setting of "over the mountain" Birmingham. He practiced corporate law for many years, focusing on behind-the-scenes work that prevented problems for his clients. This would be a full life for many people.
But wait—there's more. When Meade was starting his career in science fiction fandom, the few fans living in the Southern states were quite isolated from each other. Meade saw the need for a data base of Southern fandom. In 1971, he published the second issue of the SFC Bulletin. For 12 years Meade collected information, typed it using a non-correcting typewriter, pasted the articles into large zines with small margins and smaller type, and mailed it to science fiction fans throughout Dixie. He accepted donations, but the zines went out even if the donations and dues did not cover the cost, which they rarely did.
Any Southern SF fan of the 70's and 80's remembers those SFC Bulletins. The reduced type and so-so reproduction might have been difficult to read at times, but the information rewarded the struggle. The Bulletin covered everything—conventions, fanzines, apa's, and clubs in all the Southern states were listed in its pages. Meade never slighted a group and covered the occasional dispute with scrupulous fairness.
As if all of this were not enough, Meade also researched and published a major reference project on the ouevre of H. P. Lovecraft titled HPL. He published a regular apazine in the Southern Fandom Press Alliance for many years and started at least two other apa's. Over the years he amassed a staggeringly large collection of videotapes from science fiction, horror, and fantasy productions. Meade also played a major role in the Deep South Con of 1977 held in Birmingham at a hotel which did not want to honor its agreements once the convention started. They probably never dreamed that a local attorney would be part of the group they intended to debone.
Meade finally tired of the Herculean task of running the Confederation and passed it to other hands. He was not much active in science fiction fandom in his later years. But he had earned his burnout and gafia more than most folks. He had carried Southern fandom on his shoulders. It would not be the same today without his efforts. We all owe him an enormous debt of thanks.
The Editor did not know Meade very well on a personal basis. We met at a few conventions and visits to the Frierson house during the planning for ConFederation. When Meade wore his long black hair and moustache along with his denim jacket with the SFC embroidery covering the back, you could easily imagine him as a dashing Confederate officer ready to battle the mundanes.
Despite his imperfections, Meade Frierson left his mark on the world. No one can take that away from him. During the memorial party at ConStellation in Huntsville, his widow Penny said that living with Meade had never been dull. There are far worse ways to be remembered. Requiescat in pace, Meade Frierson.
---
If you have a favorite memory of Meade Frierson, please send it to the Editor for inclusion in the web site.