Welcome to the official Internet site of the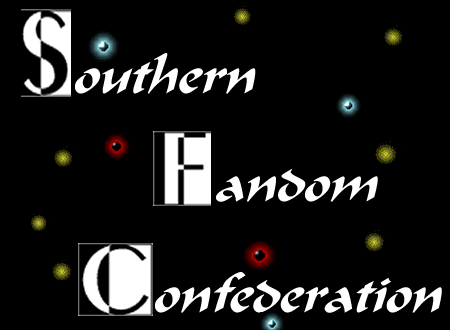 This site is your Internet source for news and information about science fiction fandom in the Southeastern United States.
To learn about SFC and the multitude of activities that Southern fandom has to offer, click on the links to the right.
Click here if you do not see the links to the right.
For information about upcoming DeepSouthCons:
DeepSouthCon 52/ConTrails
Holiday Inn
Bristol, VA
May 16-18, 2014
P.O. Box 3221
Kingsport, TN 37664
DeepSouthCon 53/CONtraflow 5
New Orleans, LA
October 2-4, 2015
http://www.contraflowscifi.org
If you're not a member of SFC, we hope you'll join. Dues are $15. The membership runs specifically from one DeepSouthCon to the next. (See the Conventions link for more information about DeepSouthCon.) Your membership gets you the SFC Bulletin, the print Bible of Southern fandom, and other Web-based SFC publications. You'll also get the satisfaction of knowing your dues help spread the word about SFC and Southern fandom.
To join the Southern Fandom Confederation, send $15 and your name, snail mail address, and E-mail address to:
Southern Fandom Confederation
c/o G. Patrick Molloy
P.O. Box 9135
Huntsville, AL 35812
Special thanks are extended to Sam Smith for providing the server space. Like all of science fiction fandom, SFC exists only through the work and contributions of its members.
Send all material, comments, and questions to the Editor.
We hope you enjoy your visit. Y'all come back now, y'hear?