1997 Southern Fandom Confederation Handbook & History
PART III: Regional Survey
---
Louisiana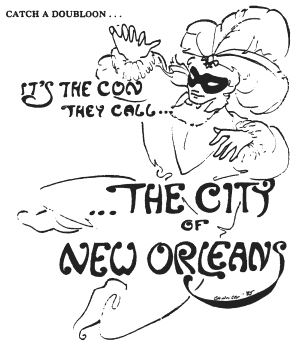 There's lots of fanac happening in the Big Easy and there has been since the beginning of fandom. Lester Boutillier published a fanzine several years ago that went over most of the history, but I can't lay my hands on the thing. For some basic background, I've reprinted a few selections from SFC Bulletins. Lee Hoffman graciously gave permission to reprint some of her recollections (and Tucker's) on the Nolacon in 1951--look for this in Part IV, Misc. Silly Stuff. "The Sadler-Penney Papers" by Don Walsh gets us up to 1971. Post-Worldcon burnout led the old guard after 1988 to rein in their hyperactivity. Guy H. Lillian III earned his law degree and most of his fanac has been confined (!) to producing the excellent genzine Challenger [see Part IV], and his hyperactive apac, including a two-year stint as SFPA OE. The magnificent Dennis Dolbear has been involved to a greater or lesser degree in everything going in NOLA, and is known for his hospitality to visiting fen. John Guidry pops up at the occasional convention, and Justin Winston and Annie Hebert continue to throw excellent parties every now and then. Convention activity in the late 1980s and 1990s has centered around Tom Hanlon and the large, multi-focus convention NOSFFF (he also chaired a World Fantasy Convention).
The Sadler-Penney Papers
Don Walsh, Jr.
[First printed in Nolazine #11, June 1971. Thanks to Tom Feller for sending this to me.]
Pick a NOSFA member, any NOSFA member. Give him a piece of paper and a pen and tell him to draw a chronological chart of the history of New Orleans fandom.
Okay, so explain to him what "chronological" means.
Now, when he's finished, what will you have?
The more astute might put Lovecraft's visit or E. Hoffman Price's period of residence, both back in the thirties. The vast majority would list the fan career of Harry B. Moore, culminating (and climaxing) at the Nolacon in 1951. After all, you have to start with some recorded thing. Dan Galouye had been fan for over a decade before Nolacon, but wasn't part of what anyone could call fandom until then. And by the time he would have qualified as a Faan, he was already a Pro.
So, a big juicy entry in 1951.
What's next?
Uh, let's see...welll......
Something like 1964 or '65?
That's what most NOSFans would have to put, for sheer ignorance of anything occurring in the interim.
At least, it was that way till I discovered the Sadler-Penney Papers.
No, I'm not Richard Shaver.
Jan Penney, neé Sadler, was from 1956 to 1961 the most active fan in Louisiana. She edited four issues of a successful fnz called SLANder which made top national trading lists, was the nucleus of a small but active fan group at Tulane University, was a friend of both Rosel G. Brown and Daniel F. Galouye, the two writers occupying the city at the time, and was in touch with all the very diverse and disassociated Louisiana fans of the day--Emile Greenleaf, now in Denver; Charles Bush, now in Japan; Harry Moore now in hiding in Argentina; and the nameless remnants of Moore's group which dated from Nolacon. She was a friend of Harlan Ellison and Ron Ellik, and correspondent of Bob Tucker, Dick Plotz and Larry Shaw.
She had attended two regional conventions, Agacon '55 and Metrocon '56, before Pat Adkins had read Tarzan of the Apes.
So why had 99% of NOSFA never heard of her?
Let's answer that indirectly, by listing the ones who had heard of her.
Pat Adkins was the instrument of my introduction to her in 1968. Or rather, my introduction to Jan Samuels. Neither Pat nor I knew anything of her fan background then, and we wouldn't for months.
Rick Norwood met her at Consolacon (more on that later) in 1961.
Dan Galouye knew her from the fifties, but forgot her name.
Rosel Brown knew her from the fifties, but forgot her name.
And that is all.
For some reason, despite the presence of all of the pieces of the big jigsaw, no one assembled them till I did in 1969. Jan Samuels was Jan Penney, and Jan Sadler, and Dan's nameless femmefan from the past and Rosel's nameless femmefan from the past, and the girl who once patted Rick Norwood on the head (an achievement).
Jan was born Mary Janice Sadler to Mr. and Mrs. David Sadler of Jackson, MS. Her entrance into fandom came at the age of eleven when she started reading IF and Thrilling Wonder, and joined the Little Monsters of America. As all parents know, what eleven-year-old girl wouldn't feel at home in the Little Monsters of America as nowhere else?
LMA sent her fanzines, which she perused in astonishment/bewilderment/confusion. Then one day, a copy of Tucker's SF Newsletter with a full con report on Nolacon.
She was hooked.
In the next few years Jan developed into a slightly myopic but nevertheless attractive femmefan. By the time 1955 rolled around she was twelve months into a correspondence with 21-year-old Harlan Ellison, and also swapping letters with Ron Ellik (as aforementioned), and Nebraska fan Tom Perry, and others. Through Ellik she was put in touch with Wayne Strickland, a former LASFS [Los Angeles SF Society] type whose family had moved to an air base near N.O., which is reasonably close to Jackson. In April 1955, she, Strickland, and her father David Sadler attended what was her first SF convention, the first annual Southeastern Science Fiction Conference, Agacon, at the Dinkler-Plaza, Atlanta, GA. David Sadler was to be guest of honor, it turned out, being pressed into service on the event of Doc Ford's falling off a pogo stick and breaking a leg. Chairman of the Agacon was ASFO President Ian T. Macauley, and Jerry Burge was art director. Leading fans present included Frank Dietz, now of LUNA, who was chasing an imported Birmingham actress named Vieve Masterson; Charles Wells; Bob Madle, who successfully bid on the next convention site for Charlotte, NC; and Russell Watkins. Harlan the E., who was supposed to descend on the Agacon with a horde of bloodthirsty Clevelanders, failed to show. Attendance was low, despite a precon registration of 200.
(As an aside, what ever happened to the Southeastercons? Was there one in Charlotte in '56?....)
...and why does ASFO2 seem to be ignorant of Atlanta's fanhistory? Jerry Burge, for one, was present at the '55 Agacon; so why wasn't the DSC VIII called Agacon II? Glenn Brock, you're so Brock.)
In December 1955 Jan married David E. Penney, a fan and grad student at Tulane in mathematics. The newlyweds moved to N.O. Jan had already published the first issue of SLANder under her maiden name; SLANder II wasn't forthcoming until a year later. It carried an Ellison article (by HE, not about HE, as contemporary fans would naturally assume), as well as a postcard from Robert Bloch proposing a Nolacon II...this in 1957. The third issue appeared in 1958 and the fourth in 1960.
It was during her years as a Tulane faculty wife that Jan encountered Rosel Brown...still a fan when they first met. Rosel's first sales, to H.L. Gold and to Fantasy & Science Fiction, came soon after. Besides the Penney's circle of fan-friends at Tulane, eventually Jan met Greenleaf, Dan Galouye and Charles Bush. In 1961 Jan Penney and Emile Greenleaf hosted the Consolacon, a LASFS-style consolation convention for those too impoverished to make the Worldcon. GoH was Dan Galouye, who was up for the Hugo that year for Dark Universe. And among the attendees was Rick Norwood, now president of NOSFA.
Jan was doomed to gafiate not long after the Consolacon, and so remained until partially revived by Pat Adkins and myself in '68. She is presently in exile in California[....]
[Reprinted from the 1980 SFC Bulletin]
The New Orleans SF Association has a long and interesting history. Don Markstein, noted ex-N.O. fan, supplied some historical info: He notes that there was interest in another N.O. worldcon [after the 1951 Nolacon] as early as 1962. Fans had been forming their own circle of friends "but it was John Guidry who had the idea that we should all form a club and actively pursue the goal of a worldcon, which we did. On June 25, 1967 NOSFA met for the first time in Guidry's house." Charter members were Guidry, Doug Wirth, Don Walsh, Justin Winston, Rick Norwood and Markstein. The first person to join NOSFA was Bill Bruce who missed the first meeting but was at the second. Because of his job Pat Adkins did not make a meeting until the club had been going 6 months.
"The first person actually recruited into fandom (if recruited is the right word for someone who was a fan already but didn't know it until he entered the club) was Craig Shukas who in turn brought in Pete Bezbak and Joel Penton.

"In August 1967 Guidry, Norwood, Bruce and I put out the first issue of Nolazine [about which see below--TKFW]--which was several firsts: my own first zine, the first pub of NOSFA and the first publication of the fact that New Orleans was bidding for the 1973 worldcon. That bid was pursued until 1970 when it was learned that the Shriners had booked every hotel in town for their won convention on Labor Day weekend 1973.

"I put out the first issue of Nosfan in April of 1969 and remained editor for several issues... A list of NOSFA presidents may be useful. For the whole first year of its organization NOSFA got along without any officers, rules, dues or business meetings. Issues of Nolazine were paid for by passing the hat (the first five were published this way). At the July 1968 meeting we decided that we needed officers for reasons I somehow fail to recall. We asked around to see if anybody would volunteer to be president and nobody did until Walsh spoke up. Since then presidents have been Dany Frolich ('69-'70), Rick Norwood ('70-'71), Mary Frolich ('71-'72), Lynne Norwood ('72-'73), Jim Mule (part of '73), and myself (10/'73-7/'74)." Subsequently Jim Mule, Dean Sweatman, Ron Juge, Richard Majeste and Wally Wallesverd have been in office.
Nosfan, the monthly newsletter, has had a succession of editors but has become reasonably stable during the last couple of year under Marilyn Alm. [...] The club fanzine, Nolazine, is much more erratic and is reportedly editorless. Meetings are usually held in the homes of various members.
During the days when ST fans seemed to be dominating the club, the charter members congregated at the home of one Faruk von Turk and taking the desert motif as symbol called themselves the Sons of the Sand.... The following account is proffered by Dennis Dolbear: "The Sons of the Sand (and the affiliated Daughters of the Desert) is actually the parent group for a number of affiliated organizations such as the Cubist Poetry Society, the Damon Runyon Society of N.O., the Uptown Meerschaum Collectors, and the N.O. Double Contra Basso Jug Band, to name but a few. The only requirement for joining either the parent or subsidiary societies is that the applicant be of gentle (i.e. noble) birth. Validity of pedigree will be decided by the Admissions Committee. (Note: ersatz SCA titles are, of course, not acceptable.) The Caliph (or leader) of the organization is the member with the most distinguished ancestry. This post is presently held by Faruk von Turk, who has authenticated his lineage to Charlemagne and Charles Martel. The post is also claimed by Donald Walsh, Jr., who has adduced some evidence that he is descended from the Roman emperor Caligula. The Committee has not fully accepted his claim, although if validated it would of course pre-empt von Turk's. Inquiries may be directed to Dennis Dolbear." Their motto is supposedly Cum Grano Salis: it really is Printed in Carrollton, seen throughout the world.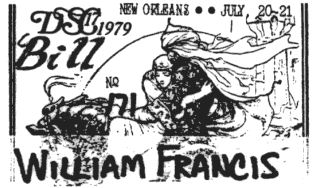 Nolazine: A Retrospective
Tom Feller
[Reprinted from SFC Bulletin Vol 6, #1.]
When I was at the New Orleans Science Fiction and Fantasy Festival, Dean Sweatman gave me some fanzines that he found during his cleaning out after the recent flooding. The most interesting ones dated from 1970-71. They were issues 10-12 of Nolazine. This was a publication of the New Orleans Science Fiction Association. Rick Norwood edited issues 10 and 11, Patrick Adkins 12.
Norwood's editorial in #10 concerned the aborted New Orleans in 1973 Worldcon bid. Shortly after St. Louiscon in 1969, they lost their convention hotel, the Roosevelt. Then the Shriners chose New Orleans for their annual convention on Labor Day weekend in 1973 and booked up the entire city. Norwood also describes the bad blood between the NO bid and the Dallas bid, accusing the Dallas bid of insinuating that a New Orleans Worldcon would discriminate against Blacks. Among Norwood statements, he says, "The Worldcon is a dinosaur; to survive it must evolve to meet new conditions." Something like this has been said many times in the last 25 years.
A consistent theme in the 3 zines is support for the space program. #10 has an article entitled "Memoirs of an Armchair Astronaut (active)" by Donald Markstein. Markstein describes his fascination with the old Captain Video TV program, then goes to the early space launches, including Sputnik. He concludes with predictions about the future of the space program.
"A dozen years from now [1970], there must be permanent Earth-orbiting space stations, permanent Moon-orbiting stations, and permanent bases on the Moon. These are coming. By the end of this decade, NASA envisions over 300 launches a year--almost one a day. ... Twenty-five years from now...there will be commercial flights to the Moon."
Norwood's editorial in #11 mentions attending the Apollo 14 liftoff. #12 includes a Poul Anderson article on the space program in which he equates the future of the program with the fate of Western Civilization.
Fiction formed a large part of the zines. #10 featured "So! You Want to be a SF Artist!" by Jack Gaughan and "The Return of the Pooh" by Norwood. In Norwood's story, Christopher Robbins and his friends decide to hold a convention. #11 included "Once Upon a Time" by Dany Frolich, an anti-war fantasy. Pat Adkins published portions of The Night Falls, described as a "realistic novel of witchcraft in feudal England," in issues 10 and 11.
There was also some sercon, mostly by Guy Lillian. #10 included his article on the 1968 Hugo Award winners. He contrasts the novel and short story winners, Stand on Zanzibar by John Brunner and "The Beast That Shouted Love at the Heart of the World" by Harlan Ellison, respectively, with "Nightwings" by Robert Silverberg and "The Sharing of Flesh" by Poul Anderson, the novella and novelette winners. #11 has Guy's article on Harlan Ellison's non-fiction in which he contrasts Memos from Purgatory and The Glass Teat. #12 features an account of his visit to the home of Poul Anderson in Orinda, California, and Anderson's bringing Guy to a meeting of Little Men. There were also some short book reviews in 10 and 11.
Fan history is not neglected. #11 had an article by Don Walsh on Jan Penney, nee Jan Sadler, a NO (and Jackson, MS!) fan active from about 1956 to 1961. She edited a zine called SLANder and co-hosted Consolacon in 1961. #12 included a short history by Norwood of the first eight DeepSouthCons. He traces it from its humble beginning at Al Andrews' house in Huntsville to #8, when the convention's attendance exceeded 100 for the first time.
The letter columns contained a mixture of pros and BNFs. Loccers included Poul Anderson, Ned Brooks, R.A. Lafferty, Robert Bloch, Harry Warner (of course), L. Sprague de Camp, and Justin Winston. Harry discourses on the problems of Worldcons. "The worldcon and hotels will not be compatible much longer," he writes. Again, something that has been said many times in the last 25 years.
More LA clubs and conventions:
Baton Rouge: Star One Delta, P.O. Box 45577, Baton Rouge, LA 70895. Meets the third Sunday of every month at the Mr. Gatti's Pizza on the corner of Essen and Perkins. Dues: $15 annually, $7.50 per additional member in the same household. Star Trek and other media. Newsletter. Officers: President Karen D. Morton, Vice President Jeff Tircuit, Treasurer Johnie Johnston, Secretary Sue Smith, Newsletter: Editor Michael Scott.
Metairie: Crescent City Con XII (August 1-3 '97), Best Western Landmark Hotel, Metairie, LA. Guests: P.N. Elrod, Nigel Bennett, Dean Sweatman, George Alec Effinger, Barbara Hambly. Membership: TBA. Info: P.O. Box 52622, New Orleans, LA 70150-2622. 504-888-9500. E-mail: cccno@aol.com. http://www.fatsnake.com/ccc.
New Orleans: Babylon 504 3608 Victoria Street, New Orleans, LA 70126. Meetings on the 1st Tuesday of each month at the home of Gus and Monica Mickel. Contact: Rebecca Smith-Correll.
New Orleans: Ista Wehr 2911 Eton Street, New Orleans, LA 70131. Anne McCaffrey fandom with emphasis on Pern.
New Orleans: Krewe of the Enterprise (KOTE), 4101 Norman Mayer Ave. #75, New Orleans, LA 70122. Star Trek. Newsletter: From the Krewe's Quarters. Contact: Keith L. Rombach.
---
Questions? Comments? Send e-mail to: ssmith@smithuel.net
---
Copyright (C) 2000 Samuel A. Smith and T.K.F. Weisskopf All Rights Reserved
Last Revised: Sat Jan 22 14:31:26 CST 2000
Previous | Next | Home